Unaccompanied Minors Flying - What adults need to know
Unaccompanied Minors Flying - What adults need to know
Although it's something most families would prefer to avoid, sometimes it's necessary for minors to fly alone. For instance, if parents are separated by large distances and can't fly, allowing children to board flights on their own is hard to avoid. But there are some things that adults need to know before kids board US flights - both to reduce hassle and ensure safety. And that's what this article is all about.
What are the regulations on children flying alone in the USA?
There are no federal or state level regulations regarding what constitutes an "unaccompanied minor". Instead, the rules about who qualifies, and the services provided to young solo travelers will vary from airline to airline. This means that parents shouldn't assume that their own favorite carrier is suitable for sending minors on long-distance flights.
Some airlines actually won't accept unaccompanied minors at all. These carriers are in the minority, and tend to include smaller companies like Allegiant, Frontier, and Sun Country. Most of the major US airlines have some form of accommodation for solo child travelers, but there's no single template for the services they offer.
Do rules vary depending on the age of the child?
For instance, there is no uniform definition of how old an "unaccompanied minor" needs to be. Generally speaking, children aged between 5 and 14 years of age can fly alone, although some carriers exclude those under 10 years old, and some extend the service to 17 years of age.
If minors fit within the age guidelines, airlines will allow them onboard domestic and international flights, and provide in-person assistance if passengers need to make a change at any point. However, it's important to note that some airlines operate a second age limit for changes. For instance, Delta and American allow 5-7-year-olds to fly unaccompanied on no-stop services, but not on services involving a change.
In all cases, if children qualify, they will be provided with personal escorts for boarding and arrival. So, when flights touch down, minors will have an adult to guide them through baggage reclaim and immigration, until they meet up with a designated adult.
What do adults need to do when kids fly solo?
If you are thinking about sending a child on a cross-country or international flight from a US airport, it should be easy to arrange. But there will be some paperwork involved that normally wouldn't be the case.
Adults need to fill out unaccompanied minor forms before their children will be permitted to fly. These forms aren't complex, and include basic identifying information such as the child's name, age, and details of the ""responsible adult"" who will receive the traveler when they touch down.
What will it cost for kids to fly unaccompanied?
Adults will also need to pay certain fees for kids to qualify for unaccompanied minor services. These fees aren't fixed, so it could make sense to shop around for the best fares via search engines like BudgetAir.
Usually, fees will range from around $50 to $150 for domestic and international connections. If the child needs to change planes at any stage, the cost will rise a little, owing to extra in-person assistance. And tax will apply in addition to the fee - so keep that in mind when budgeting.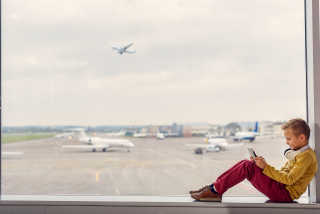 What services do unaccompanied minors enjoy?
When kids fly solo, airlines aren't just charging for the inconvenience of having to look after children as they travel the world. Fees generally encompass a lot more than that - making the experience of flying more enjoyable for minors, and putting adults' minds at rest.
Again, features of unaccompanied minor programs vary, but tend to be fairly similar. For example, American Airlines allows early boarding for kids so they can get to know their flight attendants. The company operates special lounges for youngsters in major airports, and ensures that attendants are constantly on call to help travelers during flights.
This means that flying solo can be a hassle-free way to travel across the USA and beyond. If you are thinking about taking the unaccompanied route, keep in mind that restrictions may apply for younger kids, and that airlines vary dramatically. Check fees, and ensure that any changes can be made en route. Then, you're all set to arrange solo travel to many domestic and international destinations.