Top 10 Indian Summer Destinations
Top 10 Indian Summer Destinations
An Indian Summer is characterized by the beautiful color of the fall leaves and warm temperatures. We have compiled a list of the top ten most beautiful destinations to fully enjoy this spectacular phenomenon.
What is an Indian Summer?
The term Indian Summer comes from North America. Over the years much speculation has taken place about the real meaning of the name. Some call it a warm period during the fall and according to others, a sudden warm spell in September also falls under the label of an Indian Summer. It is difficult to know which is correct. What we do know is that it will take place after the summer, but isn't that just called late summer? Okay, enough!
Top 10 Indian Summer destinations
#10. New Forest National Park - England
We start the top ten in southern England, in this beautiful nature reserve that lies between Bournemouth and Southampton. In addition to the scenic landscapes, you can also enjoy all of the wildlife that lives here. For example, people with a soft spot for Bambi can look out for the five types of deer that have found their way into the New Forest National Park. Just make sure you tread carefully...
#9. The wine regions between Sonoma and Napa Valley - California, US
California is probably not the first place that comes to mind when you think of an Indian Summer. However, you will find the opposite to be true when you visit these wine regions in November. During this fall period, it is still around 68 degrees Fahrenheit and the vineyards can be admired as they display all sorts of colors!
Scotland is, of course, known for its beautiful landscapes which is no exception in the fall. In fact, it only gets better when the green landscapes get an orange glow. This will give you a beautiful view, especially if you take a walk through the Quiraing area. Highly recommended!
#7 Green Mountains - US
This mountain range is located in the state of Vermont. The area is known for its spectacular deciduous trees in, you guessed it, fall! Vermont is made up of 80% forest and that means a large variation in colors, the "Indian Summer" colors. The State of Vermont is also known for its maple syrup that you can enjoy, if you are not drooling too much over the wonderful nature.
#6 Mont Tremblant - Canada
Mont Tremblant is a town in the Canadian province of Quebec, where you can enjoy an Indian Summer between the end of September and November. We recommend doing this from a chalet in the mountains around Mont Tremblant. For real diehard nature lovers, there are also hiking and camping trips. In addition, there are numerous other activities where you can enjoy the breathtaking nature. Consider canoeing trips, rafting, various walking routes, etc.
#5 Småland - Sweden
You can also go to Sweden if you would like to travel further. Fortunately, the effect is just as good. Småland is an excellent destination to spend your Indian Summer! Especially if you like peace and quiet as during a walking tour through unspoiled nature; you can sometimes go without seeing anyone else for hours. Apart from some moose and deer...
#4 Algonquin Provincial Park - Canada
For number four we travel to eastern Canada. This provincial park is located right on the border between coniferous and deciduous forests. The park is known as a world-class canoeing destination. Not into paddling? No worries, there are around 20 walking routes mapped out for you that will take you past the most beautiful places that the Algonquin Provincial Park has to offer.
#3 Kyoto - Japan
If you thought that the most beautiful destinations could only be found in North America you'd be wrong. For number three in this list, we cross the Pacific and travel to the ancient capital of Japan. Well, actually the surrounding area. This 'Imperial City' and its surroundings are full of beautiful temples and palaces. Combine that with the beautiful colors of fall in November and your Indian Summer can't go wrong!
#2 La Mauricie National Park - Canada
For number two we go back to the province of Quebec, where we are once again on the border between pine and deciduous trees. This results in many varied forests. Together with around 150 lakes, La Mauricie National Park offers an environment that will enchant you. Of course, the park also offers plenty to do for the active, the lakes lend themselves well to kayak and canoe trips and the area is suitable for scenic hiking and mountain bike trails. The park is also home to various game species including the rare wood turtle and the black bear, so be careful you don't get too enchanted!
#1 Blue Ridge Parkway - US
For some, it might be a surprise that the number one spot is not in Canada. But the endless valley full of fall colors that this vast area has to offer makes this the absolute number one for us. Blue Ridge Parkway is a beautiful 460-mile route that takes you through Virginia and North Carolina. The great thing about this is that you don't have to stick to just one place. In addition, the valley offers a wide range of activities. From long hikes and mountain bike tours to a peek into the private life of Thomas Jefferson on his Monticello estate, which is definitely worth it!
Can't wait to dive into nature? Find plane tickets for these nature trips with BudgetAir.com. Below you can see at a glance when the best time is to experience your Indian Summer.
---
The best time for an Indian Summer
To be able to admire the most beautiful colors of the Indian Summer to the fullest, we have selected the best time to travel to each of the destinations in this top 10 list. In the calendar, you can see the peak of the Indian Summer highlighted in red.
On this calendar, you can see when is best to travel to Algonquin Provincial Park, Green Mountains, La Mauricie National Park, and Mont Tremblant. It shows that at the end of September and the beginning of October you have the best chance of experiencing an Indian Summer.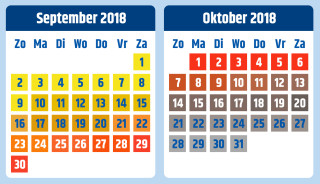 On this calendar, you can see when you have the best chance of experiencing an Indian Summer, especially in the last week of October.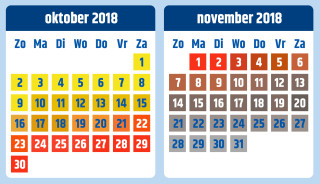 In Kyoto, you have the best chance of an Indian Summer between mid-November and mid-December. If you want a vacation in Europe, it is best to book travel for October or November for the New Forest National Park and for Skye, you have the best chance when booking for mid-October. Are you going to Småland in Sweden? Then it's best to book for September or October!