Best Carnival Foods Around the World
What are the best carnival foods around the world?
During the months of early January to late February is carnival season, a period where many christians feast, drink, and celebrate before Lent. Lent occurs on Ash Wednesday and lasts until Easter Sunday. During Lent, Christians traditionally go through a period of fasting and abstain from consuming meat, eggs, fats, and fish. However, the best thing about carnival season is that everyone can partake in the traditions and party hard, even if you aren't Christian. Whether you're looking for a new country to celebrate carnival before Lent begins, or you're just looking for new dishes to try, here are the best foods to eat around the world during carnival season.
United States
During Mardi Gras in New Orleans, people celebrate the festivities by eating lots of sweet treats, a staple of them being king cake. King cake is a pastry that's baked in the shape of a ring to resemble a crown. It's then topped with a white glaze and sprinkled with colored sugar in the colors of Mardi Gras: gold, green, and purple. These colors represent power, faith, and justice.
Additionally, the cake traditionally includes a small plastic baby inside of it, which is a symbol of good luck. The first person to find it becomes a "king" for the day, and is required to host the festivities of Mardi Gras next year!
Brazil
In Rio de Janeiro, enjoy the world's biggest carnival by stuffing yourself with feijoada, a signature dish of Brazil. Feijoada is a stew that consists of black beans and various types of meats, such as pork, beef, ham, and sausages. It's then served with a side of rice, orange slices, and sauteed collard greens.
Feijoada being a savory dish, this type of comfort food pairs exceptionally well with caipirinha, Brazil's signature cocktail. With refreshing acidic flavors, this drink will help wash down the rich and heavy flavors of this dish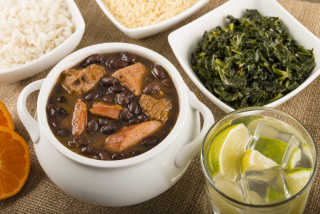 Italy
If you're in Italy during the carnival season, make sure to check out their captivating cannolis! Although the origins of this creamy dessert are difficult to determine, it is mainly considered that their birthplace came from Sicily. The cannoli is a pastry composed of a crispy shell piped with a sweet creamy filling typically made up of ricotta cheese, powdered sugar, candied fruit, and chocolate chips. However, there are many different versions of cannolis that contain their own fillings made with other various ingredients.
If you decide to visit Italy for their cannolis, be sure to eat one in Sicily, as their cannolis are the best due to their ricotta having fresh sheep's milk.
France
Did you know that in France, Mardi Gras is also celebrated? In fact, the traditions from the Mardi Gras we are familiar with in the US were actually carried over from France. While the festivities are similar, the foods eaten are mostly different. In France, crepes, waffles, and beignets are traditionally consumed, with beignets being the most notable confection during the carnival season.
Beignets are similar to doughnuts in that it's made by deep frying dough and coated in lots of powdered sugar. With a crispy exterior and a pillowy-like texture inside, combined with the sweet sugar, you won't believe how good something this simple to make taste.
Germany
If you're a big meat lover, then you need to visit Germany, where their bratwurst sausages will satisfy your cravings. Bratwursts are a type of sausage that originated in Germany and are made with ground pork and veal with various herbs and spices. Bratwurst is unique in that the way it's made is different in every region of Germany and comes in various shapes and sizes. Typical side dishes with this sausage include sauerkraut, german potato salad, and cabbage.
When visiting Germany, you'll find no shortage of bratwurst, as this meat is an iconic delicacy of the country.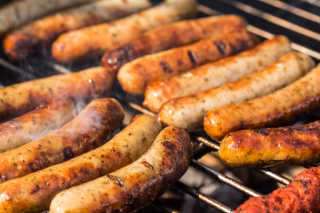 ---
Now that you know what the best carnival foods around the world are, you can check them all out in person when you book a trip through our flights page. Looking for more information regarding carnivals? Check out our page on carnivals around the world and the best places to celebrate them! Seeking travel tips or inspiration? Take a look at our blog. For all your travel needs, visit BudgetAir.com!