What is Hidden City Ticketing?
What is Hidden City Ticketing?
Also referred to as 'point beyond ticketing' or 'throw away ticketing', hidden city ticketing is a means of making travel cheaper without the airline being directly involved. The original version of throw away ticketing includes not using the return porting of a return airline ticket when the price for a one-way ticket to the same destination is higher. Hidden city ticketing applies when a passenger is faced with a direct flight ticket to a destination that is higher priced than that of a connecting flight that has a layover at the same destination.
A hidden city ticketing passenger alights the aircraft at city B, the stopover, and makes it their final destination, purposefully forfeiting the last leg of the fully ticketed journey.
Let's delve deeper. A nonstop flight from New York City to Chicago can be 400 dollars, and another flight from the Big Apple to Atlanta with a stopover in Chicago may have tickets priced at 300 dollars, for example. The hidden city here is Atlanta since the passenger never intends to reach that far, and will leave the airport during the Chicago layover. For the airline, all they will notice is that a passenger didn't come on board after the connection or layover, which in the industry is called a 'no show,' and the rest of the ticket will be canceled.
Due to flight ticket prices being subject to market variances and not on the actual distance of the flight, savvy travelers will buy one-way tickets to hidden cities that they have no plan of getting to. The tactic works best when a passenger does not have any baggage checked into the aircraft and may only carry hand luggage, which they are allowed to alight with at their intended connection destination.
Aside from the risk of losing luggage and having a passenger flagged for the socially unacceptable trait of hidden city ticketing, customs issues, airport changes, and tickets that include train travel can prove problematic. Airlines may also have an overbooked itinerary for the particular flight forcing them to transfer passengers to a plane that bypasses the connecting city or the intended destination.
Contents
Can you skip a leg of a flight?
Is it OK to miss a leg of my flight
Can airlines penalize you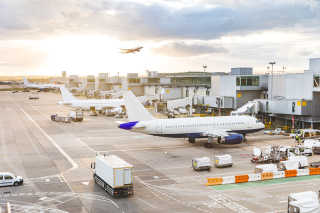 Can you skip a leg of a flight?
With hidden city ticketing, passengers can irregularly skip a leg of the flight, and the one good reason is price. Due to the complex economics involved in airfare pricing, ticket prices are determined by demand and supply, peak and off-peak seasons, or even market fluctuations. If the demand for a direct flight to a destination is high, the airfare is pushed up, but that city could be part of a connecting flight's itinerary with total journey ticket prices that are cheaper.
Hidden city ticketing can be useful when booking flights at the last minute, particularly if there was a sharp increase in ticket prices before a flight. Instead of paying for the more expensive standard ticket, a passenger can buy a hidden city ticket with significant savings. DIY travelers will unearth the competitively priced hidden city tickets, especially for hub cities since these almost have airliners stopping over.
Is it OK to miss a leg of my flight?
The practice of hidden city ticketing is largely frowned upon by airlines since it's a breach of the ticket's contractual agreement called contract of carriage. Airlines cannot be told, therefore, that a passenger intends to book a connecting flight that they intend not to see through since on discovery, the ticket will be canceled. Adept hidden city ticketing commuters follow all the processes of the ticket regulations, such as presenting passports for flights to Montreal while they intend to embark at a layover in Seattle.
International hidden city ticketing is more complex than for domestic flights, since some visa regulations may be included during the airline's journey. Baggage that has been checked only departs from the aircraft at the very final destination, and since the airline will hear no part of it, a hidden city ticketing commuter may have their property largely misplaced.
Can airlines penalize you?
Frequently hidden city ticketing can have passengers facing the consequences of the airlines, and there are flight delays for other travelers when a no show occurs. Though hidden city ticketing violates the carriage contract that a commuter enters with an airline when they purchase a ticket, it's not illegal. Loyalty points for frequently flier programs can become compromised or even totally canceled, and passengers try to avoid associating their loyalty cards with buying hidden-city tickets.
Missing parts of a flight's leg as part of a hidden city ticketing ploy can be penalized by the airplane with ticket cancellations or loss of points.
So, there you have it. Skipping the final destination can result in cheaper airfare - but risks are involved. It is important to make sure the traveler is up-to-date with the latest in airline policy before embarking ona hidden city route.