What are the best winter sport destinations in the world?
Unmissable winter sport destinations in the world
Since its birth in St. Moritz in 1864, winter holidays have spread to Asia and America. Today, there are countless ski resorts offering some of the best winter activities. There are resorts both large and small, each one providing a unique experience to visitors. Here is a list of some of the best winter sport destinations in the world.
St. Moritz, Switzerland
As the grandfather of ski resorts, St Moritz sits at the very top of the list of winter sport destinations. It offers an envious blend of glamour and history that leaves visitors enchanted throughout their stay in Switzerland. There is the exclusive White Turf horse race accompanied by inspiring art and live music performances on the stunningly beautiful frozen lake of St. Moritz. Resting on the Roof of Europe, St. Moritz offers an exciting art exhibition combining music, design, and photography that traces its inspirations to the activities of the legendary Alberto Giacometti. St. Moritz is a luxury destination, one that more than pays for itself in style and comfort in the cold evenings of winter.
Appi Kogen, Tohoku, Japan
Cloaked in fresh white powdery snow most of the year, Appi Kogen is the top ski resort destination in Japan. Mount Nishi Mori offers an exciting challenge to experienced skiers, while the gentler Yamabato run is ideal for more casual enthusiasts. Appi Kogen has 21 ski trails averaging 1.2 miles each. There is an onsite dairy farm for ice cream lovers, while the Spongebob Kids Park is bound to capture the attention of any child within the ski area.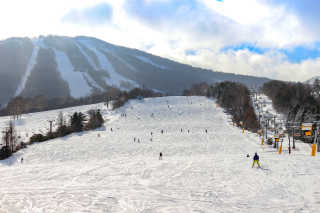 Park City Mountain Resort, Utah, USA
A favorite of the US Ski Team, Park City Mountain has more than 7,000 acres of skiing area, making it one of the largest ski regions in the United States. It has 338 trails, almost half of which are for advanced skiers. There are skiing and snowboarding activities for children and adult visitors of the resort. The different restaurants and bars offer a variety of dishes, making it a must-go winter sport destination for seekers of excitement and adventure. Salt Lake International Airport is just around the corner, making a quick hop off easy for transit travelers.
Yabuli Ski Resort, Heilongjiang, China
This is China's largest ski area with slopes totaling approximately 18 miles. Yabuli Ski Resort offers varying difficulty levels for travelers seeking adventure. The Trail of Happiness is a 1.8-mile intermediate ski trail, which is the longest ski run in its category in China. For adrenaline junkies, the Road for Brave offers a 1.6-mile A5 run complete with enough tricks to test a young person's heart strings. For the kids, Yabuli has Asia's longest sled slide with 48 twists and turns over a 1.3-mile run.
Furano, Hokkaido, Japan
Furano has a 15-mile groomed ski run in Japan's northernmost island of Hokkaido. Much like other Japanese ski resorts, Furano offers a complete package for families visiting with children. The Family Snowland, for example, offers dog sledding and snowmobiling activities that the entire family can take part in. The ski resort's steep cliffs rise to more than 900 meters, making them one of the steepest mountain surfaces in Asia. It is not for the faint-hearted, true!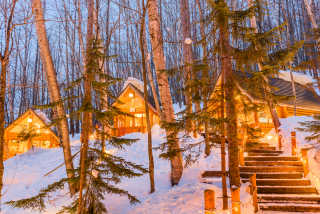 Les Trois Vallées, France
Les Trois Vallées is the largest ski region in the world. It is located within three valleys - Saint-Bon, Allues, and Belleville in the Savoie département of France. There are more than 160 ski lifts with a huge section of the ski area situated more than 1,800 meters above sea level. France's most spectacular ski resort is accessible via interconnecting ski lifts and some 372 miles of ski slopes. Les Trois Vallées offers inexperienced skiers the chance to catch some fun by running the gently-sloping, pink-colored EASY RIDER zones.
Whistler, British Columbia, Canada
Whistler and Blackcomb offer a combined vertical height of 1,610 meters, making it the largest ski resort in North America. Its most popular feature is the Peak 2 Peak Gondola that connects the two mountain peaks of Whistler and Blackcomb. Though they started off as separate ski resorts, the two spectacular mountains have been merged to provide an exhilarating ski experience for winter sport lovers. Even if you are not interested in skiing, Whistler Village is a spectacular winter vacation destination due to the many games associated with the town. There is bobsledding and skating as well as luxurious spas to wind down after an eventful day gliding down the Whistler and Blackcomb mountains.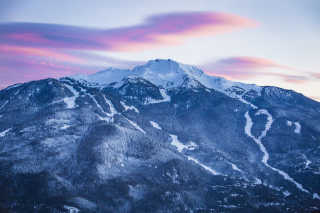 ---
Book now through BudgetAir and ski into an adventure!