How to fly with your pet on planes
How to fly with your pet on planes
Pets are a massive part of the family. They keep us company and make us laugh, making fantastic companions that often feel like best friends, too. Sometimes, they are the only ones that truly understand us - they get us! Pets come everywhere with us, from a trip to a family get-together or a drive across the country, they are always by our side. But what happens when we need to fly? Below is a good guide on how you can take your pet with you safely and lawfully when you travel by plane.
How pets fly
Each airline has different rules about whether animals are allowed on-board and how pets are looked after on their aircraft. Depending on the type, size, and breed of the animal, some pets might be allowed in the cabin. This is only allowed if there is enough space under the seat. Planes with smaller cabins don't generally allow carry-on pets.
Where they are allowed, the animal would need to remain in a comfortable carrier or crate. Animals would have to be able to sit, stand, and turn around inside the crate without touching any side. Normally, the animal and the carrier should not be more than 22 pounds. Because of their size and weight, a lot of animals will need to go in the cargo hold for the whole of the journey.
Which airlines allow pets?
Quite a number of American airlines allow pets on their aircraft. Both Delta and American Airlines allow passengers to fly with a pet, but each has different restrictions. Delta allows household birds on domestic flights in addition to dogs and cats, whereas American Airlines allows you to fly with dogs or cats only.
United Airlines doesn't allow pets in the hold. It allows pets to fly in the cabin once they are at least eight weeks old and can fit comfortably under the seat. Alaska Air allows dogs, cats, household birds, and domesticated rabbits on-board so long as they are not more than 20 pounds.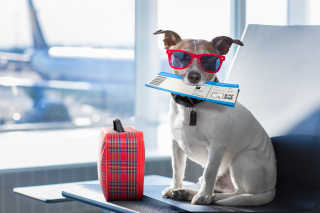 Which animals are allowed on planes?
Cats and dogs are allowed on most airlines that allow pets to fly. The general rule is that the animal must have been weaned off. With regards to age, most allow pets that are at least 8 weeks old, though 10 weeks is usually a sure bet.
Some airlines allow household birds on their domestic flights. Due to strict laws about animal poaching, transporting certain bird and animal species comes with strict regulations to help stamp out this illegal movement of animals. Passengers are advised to always make sure they check their pet's scientific name online or with your vet to determine if it is safe to fly. Most airlines allow service animals like dogs onto their planes so long as passengers make arrangements in advance.
How much does it cost to take a pet on an airplane?
The cost to take a pet on an airplane depends on the distance of the flight and the airline in question. It also depends on whether the animal is in the cargo hold or flying in the cabin with you. Cabin fees range between $70 up to around $125. Frontline charges roughly $75 for your pet to fly in the cabin. Most of the major airlines like American Airlines, and Delta Air Lines charge up to $125 dollars. For pets to fly in the hold, most airlines charge between $100 and $200.
Make plans in advance
Many airlines have a limited number of spaces allocated for pets on their aircraft. For this reason, it is advisable for passengers to make arrangements well ahead of their travel date. It is often sensible to make sure to call the airline and explain the situation before the ticket is booked, to ensure that the aircraft can accommodate the booking. Also, it is best to use direct flights where possible. Flights that involve stopovers and changes can cause a stressful environment for animals.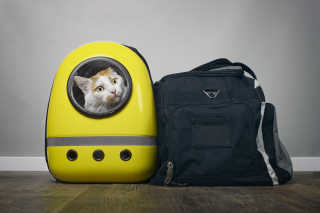 Your pet, your responsibility
Note that even though these airlines allow passengers to fly with their pets, it is ultimately the owner's responsibility to take care of the animal. Airlines assume no liability for the health or safety of your pets when in transit. When flying out of the United States, for example, your vet must issue a health certificate within 10 days of your planned travel departure. Though sedation is not advised, make sure you inform the airline crew about medication and doses or any prescription medicine that your pet requires. It is also a passenger's responsibility to fulfil entry requirements before they arrive at their destination.
---
Book now through BudgetAir and make unforgettable memories with your pets!