Etiquette in Asia: Do's and Don'ts
Etiquette in Asia: Do's and Don'ts
We've all been there: those awkward situations when you first greet someone. Do you offer a handshake, a kiss on the cheek or maybe three kisses and a hug? There is always an awkward pause and it sometimes causes the most uncomfortable situations. When you go on vacation to a country with a completely different culture, you can sometimes be surprised by the customs. In Asia, people follow very different etiquette, which can sometimes seem strange to us. We have listed the absolute do's and don'ts for you!
Buddhist countries
Buddhism is mainly found in Asia. The majority of Buddhist people live in Cambodia, Japan, Laos, Myanmar, Mongolia, Sri Lanka, Thailand, and Vietnam.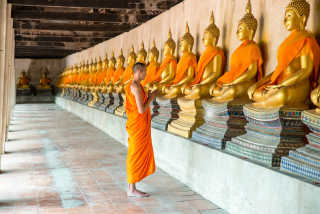 Do's
Take off your shoes when you visit the temples
Be quiet in the temples
People walk clockwise at sacred burial mounds (stupas)
Don'ts
As a woman, avoid any contact with a monk. If you want to give him something, put it down in front of him. Also, as a woman, you can never sit or stand higher than a monk, not even his own mother can.
You cannot insult anyone or get angry with anyone. People in Asia see this as a loss of face and take it very personally. So, avoid negative subjects.
You may never touch anyone's head. The head is the highest part of the body and is considered sacred.
Feet are the lowest part of the body, and, therefore, seen as unclean. You should never show the bottom of your feet to anyone, or point at something using your foot. Even the soles of your shoes can be very offensive.
Royal families are highly regarded. Insulting them is absolutely forbidden, and is even punishable by law. Do not touch images of the royal family, do not take disrespectful selfies. and you must stand up when you hear the national anthem.
---
Hindu countries
Hinduism is mainly found in India and [Nepal] (https://www.budgetair.com/en_us/flights/asia/nepal).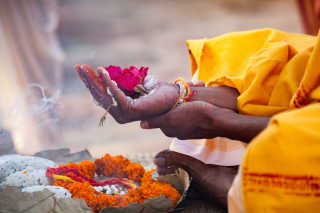 Do's
Here too, you have to take your shoes off when entering a temple.
If locals invite you to their home, be generous and bring something for them. They really appreciate this.
Don'ts
The cow is a sacred animal in Hinduism. No beef is eaten.
The left hand is considered unclean, and is only used in the bathroom. So do not use your left hand to eat, take something from someone or give someone something.
Here too, the rule of loss of face applies. Asian people are very concerned about this. So do not insult anyone in public and resolve any conflicts privately.
---
Islamic countries
Islam is also common in Asia, mainly in the countries of Indonesia, India, Bangladesh, and Pakistan.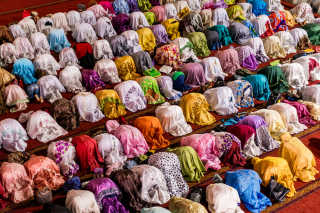 Do's
Always cover your arms and legs when you visit a mosque. Usually, they also ask to cover your head with a scarf or sarong.
Don'ts
In Islam, too, the head is sacred and should not be touched. Even children.
Just as with Hinduism, the left hand is unclean, and should, therefore, not be used to eat, accept or give anything.
Beware of affection in public. Holding hands and kissing in public is still taboo in many places.
Muslims do not eat pork. So, out of politeness, it's best not to eat pork, if you find it anywhere.
Drinking alcohol is forbidden in Islam. Always remember this.
---
How do you greet someone in Asia?
Greeting someone in an appropriate way is always an issue. We often shake hands, when in doubt. Giving a handshake is a typical Western greeting, and is, therefore, not really done in Asia. There are many different options for greeting. For example, Muslims bring their hand to the heart after greeting and they wai in Thailand. The safest option as a tourist is to not take too much initiative and if you are greeted by a local, simply copy their greeting as best as you can. Usually, this is greatly appreciated.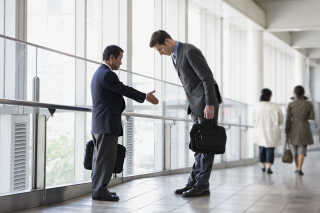 ---
Traditional dress
We usually just wear what we feel like, but in many countries and cultures, this is not always appreciated. You have to cover your legs and shoulders in holy places, many cities and public places, and at home. A long skirt or dress is required. Of course, *exceptions are made at the swimming pool in resorts or on the beach. Watch out with sunbathing in a monokini as most people don't like this look.
You must also always take off your shoes when entering sacred places such as mosques and temples. They see it as a form of rude and find it very disrespectful if you leave your shoes on.
---
Eating habits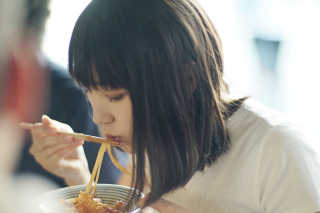 There are also some differences in terms of food. Food is usually shared, but we usually get our own plate. If cutlery is provided then it is usually only a fork and spoon, never a knife. This is because the food is already cut into small pieces. In general, Asians eat with chopsticks, or sometimes even just with the (right) hand. Also keep in mind that there are some Asian cultures that eat different types of meat, such as birds, spiders, dogs, and cats. When in doubt, it's best to ask what exactly is on your plate. Here are a few more do's and don'ts that you should take into consideration during your restaurant visit.
Do's
Slurping your noodles is normal and is, therefore, acceptable.
In some countries in Asia, it is also common to burp out loud after eating. This is considered a compliment to the chef.
Don'ts
Do not place your chopsticks upright in your bowl of rice. This is only done at funerals and is, therefore, considered a symbol of death.
Blowing your nose at the table is rude. If it is really necessary, do it discreetly or leave the table.
Giving a tip is seen as condescending and you shouldn't do it in Asia.
Do not reject anything that is offered to you for free, as this is considered to be very rude.
In Singapore, they do not really appreciate chewing gum. It's considered rude and dropping your gum on the street is illegal and can cost you $500.
Are you impressed by this list of etiquette rules in Asia? Here is another one to finish it off!
Spitting in public is completely normal in China. So don't be shocked if you see someone spitting on the street, on the bus, train, or even in a restaurant.
Would you like to try chopsticks out? Book your tickets now!.