What you need to know about the waiting time at US airports
What you need to know about the waiting time at US airports
When you fly into America, it's normal to experience some delays as you pass through immigration and baggage reclaim. And customs can also be part of the delay, if Customs teams deem that there is a need for extended checks. But the length of these customs delays, and the likelihood of them happening vary from airport to airport, something that travelers should be aware of when they fly. To help you transit smoothly into the USA, we've put together a quick guide to customs waiting times - which should hopefully minimize the delays you experience.
Why do travelers experience customs delays at US airports?
First off, we need to talk a bit about what kind of delays passengers could encounter when they travel to the USA with BudgetAir. All passengers arriving in the USA from abroad will be subject to some form of customs check. That's just part of the process of arrival, as Customs and Border Protection (CBP) need to ensure that travelers aren't bringing in illegal items, or evading customs duties. But these waiting times are far from universal.
For one thing, delays are often shorter for US citizens than for international passengers. That's especially the case at busy times of day, when the demands on customs officials tend to spike. There are also various pre-travel clearance schemes that travelers can use to reduce their wait times. We'll look at them in a moment. Finally, wait times can depend on the efficiency of the airport travelers arrive at, and that's what we're mainly interested in here.
The big picture: Waiting times across the USA
Fortunately, CBP collect Airport Wait Times (AWT) for every flight that arrives in the USA from abroad, and every airport is included. This allows us to obtain a really accurate picture of which airports are hitting the ball out of the park, and which ones are striking out. Sometimes, the numbers aren't pretty, but passengers may be surprised by how well many airports do.
Data for the average for every single passenger isn't available, but we do have numbers for the average wait per month. These stats show that waits vary from 14-18 minutes, with the fastest transfers in November, and the slowest customs checks in August.
What are the worst (and best) US airports for customs waiting times?
However, no-one flies into every airport at once. That's why the CBP's search engine for waiting times is so valuable. It lets you search every airport in the nation, providing a read out of average customs wait times for whatever historic period you choose.
Which airports come out best? Well, the standout provider is Palm Beach, Florida, closely followed by Chicago Midway. Both manage an average of 5-minute delays, while major airports like Phoenix, Baltimore, and Raleigh-Durham are also very efficient.
On the flip side, Orlando, San Francisco, Las Vegas, New York, and Newark all average 20 minutes or more per check. The situation is pretty fluid, though, with some airports showing marked improvements, and others falling behind. So be sure to check the search function before choosing an airport if delays are a major concern.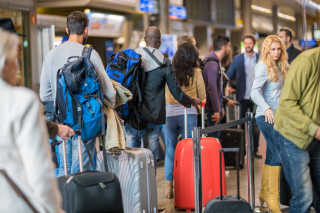 How to keep your customs waiting times to a minimum
It should be stressed that these wait times are for passengers who have not chosen pre-clearance options. Products like Global Entry allow passengers to sign up for preapproval from CBP. When they have been approved as "low risk" fliers, Global Entry holders can pass through most US airports far more quickly. That may well be worth the $100 fee for a 5-year permit.
In that case, there's little risk of being detained for 50 minutes (as can happen in the worst customs delays). Instead, passengers can scan their fingerprints at a dedicated Global Entry kiosk, sign a declaration, receive a receipt, and continue through customs. It's a very good option for frequent fliers who regularly enter the USA from abroad. But if you're not too worried about customs delays, it's not an essential purchase.
In any case, travelers can expect a short delay when they enter the USA. That's just the way it is. Without pre-clearance, anticipate as much as an hour at worst, and 5 minutes at best. And, if that's going to be too annoying to handle, use the tools available to pick an airport with efficient customs staff who won't hang around.