Most exciting balloon festival destinations around the world
Most exciting balloon festival destinations around the world
Hot air balloons are a wonderful form of transport, providing fun whether you are inside the balloons basket or on the ground watching them take off in a festival. And though the hot air balloon might not go to space, it can take you very high above everyone else, commanding wonderful aerial views. For those who wish to partake in the joy or just watch others float across the horizon, there are many hot air balloon festivals being held - so here is a list of the most exciting balloon festivals destinations in the world!
Great Reno Balloon Race
It all started with a score of balloons in 1982. Since then, the Great Reno Balloon Race has become an annual spectacle to more than 100,000 people with over 100 balloons in flight. The trademark event of this great hot air balloon festival is the early morning ascension called Dawn Patrol. A handful of balloons deemed fit to fly in the dark take flight first. A little later in the day there are many balloons dotting the skies like tiny bubbles. It is always magical in early September at the Rancho San Rafael Park.
Albuquerque International Balloon Fiesta
About 500 balloons are launched from the equivalent of 54 football fields in the Southwestern city in New Mexico. This takes place in the first week of October and has been held here since 1972. The Albuquerque Box which is a set of predictable wind patterns makes flying hot balloons in this part of the world easy and enjoyable. The mild wintery temperatures make it a pleasant outdoor event for the entire family. Watching hundreds of balloons ascend at the same time is a thrill, while enjoying each balloon's unique design.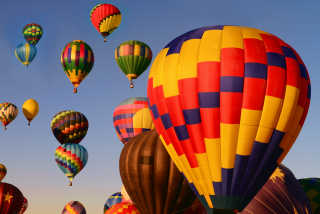 International Hot Air Balloon Festival
Nothing quite matches a view of the Swiss Alps from the basket of a hot air balloon in late January. Pilots from more than 20 countries around the world make the trip to Chateau-d'Oex in Switzerland. The wintery conditions make for an exceptional hot air balloon festival over two weekends. The festival has a historic significance. In 1999, the Breitling Orbiter had the first tour of the world inside a hot air balloon. The festival has been celebrating this event since it commenced in 1979.
European Balloon Festival
Held in Igualada, Spain, the festival is the largest of its kind in Spain. It brings together some 50 balloons for a four-day event in July every year. With more than 25,000 spectators, visitors are bound to enjoy recreational flights as well as competitive events, including races. There are also the usual fireworks to add spark to an already eventful festival.
Quick Chek New Jersey Festival of Ballooning
A very long and quite befitting name for North America's largest hot air balloon festival. It takes place in the last weekend of July each year to the cheer of more than 150,000 spectators. Before the evening balloon glow, about a hundred balloons take flight each day over Hunterdown County. There are always other events like the 5K race, fireworks, and concerts to entertain the expectant crowd.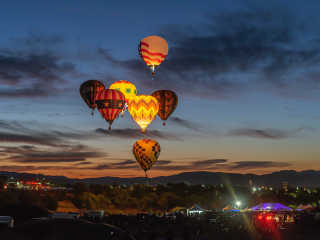 Colorado Springs Labor Day Lift Off
What better way to celebrate the day off than by actually lifting off the ground? The May Day event has been going on for 40 years, making it one of the oldest balloon festivals. Up to 70 balloons lift off from the Memorial Park on a day marked with eating competitions as well as skydiving instructions. "May day, may day" could never have brought such excitement than scores of balloons circling overhead like large golden swans in formation.
International Balloon Festival of Saint-Jean-sur-Richelieu
Glowing balloons at night, live music, and the grand ascension of 100 balloons is enough to draw 450,000 people to Canada's largest balloon festival. Held from 8th to 16th August each year, this festival is a true family gathering just as the heat of summer is waning. The nine-day event evokes thrill and excitement for young and old. There is also a Pop Challenge where large inflated structures compete in a race. They are quite flamboyant, the Canadians.
Bristol International Balloon Festival
The four-day event occurs in August at the Ashton Court Estate in the South West of England. As the largest gathering of hot air balloons in Europe, the Bristol event brings together about 130 balloons from all over the world. Once the balloons take off, they float over the iconic Clifton Suspension Bridge, providing a breathtaking view across the city. The event is free for participants, and has side attractions including a trade fair, fireworks and music.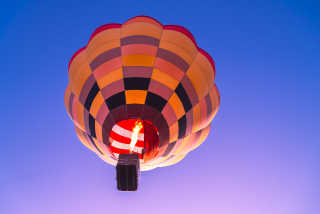 ---
Book now through BudgetAir and fly into an adventure!