Paying for your vacation - making it simple
Paying for your dream vacation should be straight-forward and stress-free, so it is good to know that when you book your holiday with BudgetAir you can use many payment options to secure the best cheap international flight tickets to your favorite holiday destinations. With that in mind, BudgetAir has made a guide on available payment options, including credit and debit cards as well as online payment methods including Paypal and digital credit cards.
Table of contents
Payment Methods
BudgetAir allows customers to use a variety of payment methods to book their dream holiday, making picking your ideal destination the only difficult decision. It accepts various forms of payment, from major credit and debit cards from banks around the world to online payment options like Paypal. Below is a list of all the available payment options and details on booking with BudgetAir.
Credit cards
When it comes to booking your holiday, BudgetAir accepts credit cards from all over the world, including Visa, MasterCard, and American Express. Payment with a Visa Debit card is also available. Credit cards will need to be valid and in date to complete purchases. BudgetAir takes special care when processing credit card transactions to protect your data, and your credit card number can only be transmitted over the internet if your browser supports Secure Socket Layer (SSL), allowing encoded information to be sent.
Payments must be made in full with one credit card. Splitting the cost over multiple cards is not an option and only one credit or debit card can be used across a single reservation.
Discover cards
Depending on the airline, Discover cards may be accepted as a payment option on the BudgetAir website. If the airline allows payment with Discover cards, the option to use this card will become available on the list of payment options. If it is not on the list, the airline does not process payments with Discover and another credit card must be used.
Paypal
Payments made through Paypal are available for flights booked through BudgetAir. The use of Paypal provides a quick and easy payment method for customers with linked credit cards or bank accounts or those with a Paypal balance. The use of Paypal is an incredibly secure and free way to book a holiday to your preferred destination.
Digital credit cards
At this particular time, BudgetAir does not accept Digital credit card purchases, also known as 'single purchase cards'. Payments on Digital credit cards or single purchase cards only allow for one purchase at a time, whereas the payment for BudgetAir happens in two parts - one charge for the BudgetAir booking fee and one charge for the actual cost of the ticket (which is paid to the airline in question). With these two separate payments, it is not possible to use Digital credit cards.
Billing information
When you have made a purchase on BudgetAir your card will be charged in full for the amount of the tickets and the booking fee. With payments for hotels or car rental bookings, the amount will also be charged immediately, with the money being paid directly to the hotel or rental company and clearly shown on your payment invoice.
Extra fees and taxes
All taxes and extra fees are included in the payment total and can be found in the options section, under the "Price Summary" section. This information is displayed before you make your purchase, broken down into the relevant sections for clarity.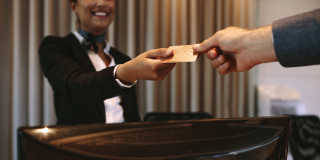 Paying for the ultimate getaway
With BudgetAir, it has never been easier to book a holiday around the world, from plane tickets and hotel bookings to car rentals. The online payment options include credit cards, Paypal accounts, and Discovery cards, with all of the payments broken down upfront and including extras and tax. So what are you waiting for? Head over to BudgetAir now and book a getaway to your ideal destination!