In-flight Meals on Budget Airlines
In-flight meals on budget airlines
Before budget airlines were introduced, aircraft food and drinks were served on a complimentary basis aboard many flights. Since the onset and popularity of budget airlines, in-flight meals are an incentive for passengers, which airlines are on the race to satisfy. Increasingly, sophisticated commuter taste buds have led to budget airlines offering a better in-flight meal range and experience for travelers.
Contents
How is the service for in-flight meals on budget airlines?
In-flight food options available on budget airlines
What meals are served on a budget airline flight?
Budget airline in-flight food options for little passengers
Alcohol onboard budget airlines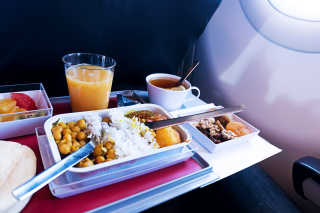 How is the service for in-flight meals on budget airlines?
Budget airlines feature different menus for what food is served in-flight, with some faring relatively better than others. The manner of service available for food and drinks and their presentation varies between the different classes an airline offers its passengers.
While first or business class passengers often enjoy their in-flight meals on fine china with actual cutlery, economy class fliers often have to contend with disposable plates and plastic spoon-forks. There are no food or drink options for short-haul budget flights, but passengers often have the option of bringing food on board after they have undergone a security clearance.
In-flight food options available on budget airlines
Meals on budget airlines may not be inclusive on short-haul domestic flights, and any food or beverage will be charged as an extra. On long-distance and international flights, carriers serve one meal with a drink, but liquor and snacks often have to be ordered separately for a fee. Meals can be pre-ordered separately from the in-flight dining options, or passengers can pay using allowable currency while in mid-air.
Budget airlines recognize the importance of dietary, customary, or religious personal reasons for meals they serve on board, and alternatives may be requested within time allowances. Passenger's dietary requirements that budget airlines must contend with include allergies, substance intolerances, religious restrictions, and medical reasons, while preferences such as vegan or vegetarian diets are on the increase.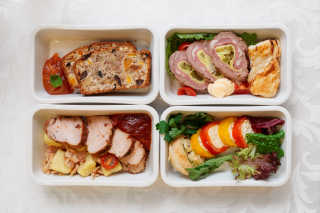 What meals are served on a budget airline flight?
In-flight meals on budget airlines are served on plastic trays with passengers using disposable cutlery. Typical in-flight meals will include a meat dish such as beef, chicken, or fish fillet, accompanied by vegetables or salad with a bread roll and a side of dessert. For long-haul flights on full-service tickets, budget airlines serve a complimentary snack or drink for business class passengers and premium economy class.
When booking a budget plane ticket, any specific requirements or dietary restrictions that a passenger may have regarding their in-flight meal should be communicated to the budget airline. The order can be made at a later date after booking but should be finalized 24 to 48 hours before boarding, and meal options available can be selected beforehand. Special requirement in-flight meals on budget airlines available today include vegetarian and vegan options, low-carb meals, kosher or halal, gluten-free, seafood free, Jain foods, or specific meals for children.
Special meals are served separately or before other passengers are served their food, so that flight attendants may not mix-up traveler's dietary culinary requirements.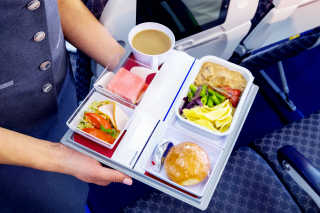 Budget airline inflight food options for little passengers
Budget airlines will cater to kid-specific meals but not baby food, and passengers carrying toddlers are advised to bring their own within their hand luggage. Children can be particular eaters, and budget airline in-flight meals will have plenty of options that cater to their younger travelers. For babies needing formula milk on long haul budget airline flights, the facilities to sterilize bottles or hot water may be available on request.
Depending on the origin of the budget airline, no matter where they fly, religious beliefs will affect the meal served, such as the lack of pork within carriers from Islamic countries.
Alcohol onboard budget airlines
On some low-cost carriers, alcoholic drinks may be served on a complimentary basis during international flights, but the exceptions to this rule are numerous. Cabin attendants reserve the right to refuse alcoholic drink service to passengers that appear or behave inebriated, while budget airlines from Islamic countries may not serve any alcohol.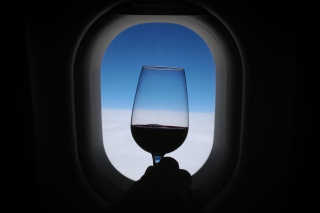 Bottom line of in-flight meals on budget airlines
Meals on budget airlines ensure that passengers have a better travel experience and feel privileged enough to select that carrier against its competition each time they fly. Budget airline inflight meals are served at thousands of feet in the air and provide many consumers with a pleasant experience and refreshment on a journey. Whether paid for or as a complementary addition to economy flights, mid-flight budget meals are swiftly becoming a more refined customer experience with plenty of choice for all travelers.