Difference between Global Entry and TSA PreCheck
Difference between Global Entry and TSA PreCheck
TSA PreCheck and Global Entry are two ways to ease the stress of transiting through security and customs checks at US airports. There aren't that many differences between the two products (both of which come with sign-up fees) but it's definitely worth knowing how they work. If you travel regularly in the USA, either option could make life much, much easier. So let's discover more about them, and see which (if any) makes the most sense.
What is TSA PreCheck?
What is GlobalEntry?
Why should you choose either GlobalEntry or TSA PreCheck?
Important things to know about applying for TSA PreCheck and Global Entry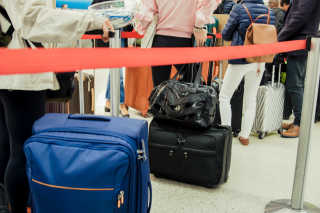 What is TSA PreCheck
TSA PreCheck (also known as "TSA Pre✓ ®") is a system of passenger vetting operated by the Transportation Security Administration. After paying a $85 sign-up fee (October 2019), members visit Enrollment Centers for background checks and biometric data collection. If checks come back negative, travelers then receive a Known Traveler Number (KTN). Using the KTN isn't complex. Passengers just add it to their ticket reservation when booking, and it should appear on their ticket when they check in.
The advantages of obtaining a Known Traveler Number
With a KTN in their possession, travelers can access rapid security lines at over 200 airports, featuring 73 major airlines, potentially speeding up transit times through departure and arrivals terminals. Travelers with PreCheck also won't need to remove their belts, remove liquids or gels from their luggage, or take their laptops out of carry-on cases.
What is GlobalEntry?
GlobalEntry is in many ways very similar to TSA PreCheck, but the program is managed by US Customs and Border Protection instead of the TSA. Again, applicants need to attend Enrollment Centers. The sign-up fee is slightly higher, at $100, and fewer locations are available to enrol. Successful applicants enjoy five years of coverage and all TSA PreCheck benefits are part of the package. Successful applicants are assigned a PassID, which functions in exactly the same manner to a KTN.
What does Global Entry offer over TSA PreCheck?
The key positive of Global Entry is that it allows members to benefit from expedited customs screening on international journeys. This means that US passport holders returning from overseas can expect much shorter queueing times upon arrival. In fact, the specialist Global Entry kiosks used by the system tend to offer almost instant transfers through security. It's a handy tool for anyone who makes regular business or recreational visits abroad.
Choosing between TSA PreCheck and Global Entry
Global Entry and TSA PreCheck are subtly different products, with slightly different audiences. TSA PreCheck is mostly targeted at US citizens who travel within US borders. It doesn't include a customs element, making it much less suitable for frequent fliers who cross international boundaries. Because of this, travelers may well feel that the extra $15 (October 2019) is money well spent. However, there are some other things to consider.
Some potential downsides of choosing Global Entry
Generally speaking, applying for Global Entry will be more time consuming and complex than applying for TSA PreCheck. For instance, Global Entry requires a valid US passport (while TSA PreCheck does not). Interviews at enrollment centers may be needed to secure Global Entry, while a simple visit is enough to secure a TSA PreCheck KTN. There are also almost 400 PreCheck enrollment locations, but relatively few Global Entry centers, so some travelers may find it inconvenient to sign up.
Important things to know about applying for TSA PreCheck and Global Entry
All travelers aged 12 and above are eligible for a KTN (below that point, kids can pass through security with accredited adults). Payments can be made via all major credit or debit cards, as well as money transfers, and they are non-refundable. So, if your application is unsuccessful, you won't receive a refund. Applications will also take time to process. Generally, TSA PreCheck KTNs are granted within 2-3 weeks, but Global Entry applications can often take between 3-5 months - making it essential to apply well before traveling.
What about foreign travelers? Can they sign up for TSA PreCheck or Global Entry?
Both Global Entry and TSA PreCheck are US government initiatives, and are usually restricted to residents of the United States. That's bad news for travelers who regularly visit the USA and have to contend with customs lines. However, there may be some flexibility. Some nationalities are eligible to apply, including the UK, India, Colombia, Argentina, Germany, and South Korea. Interviews will be required in all cases, and it may take some time to secure a PassID, but it can be done.
If airport queues are interfering with the travel experience, TSA PreCheck and Global Entry could offer solutions. Both are popular with frequent fliers and aren't too expensive. So if you travel a lot and need to speed things up, they could be the ideal services to choose.