Día de los Muertos - The Day of the Dead
Día de los Muertos - The Day of the Dead
What is Día de los Muertos?
Día de los Muertos literally means day of the dead. It sounds morbid, but if you learn more about the festival, you will find that the idea behind it is very beautiful. Every year around November 1st and 2nd, Mexicans commemorate their deceased friends and relatives.
This commemoration happens with a big party during which the living celebrate the dead. Graves are cleaned and decorated during this festival. People also offer food and drink to the dead, which is then eaten by the people attending the festival.
The festival is very important for Mexicans because they believe that you will live on after death as long as you are remembered by the living.
When is Día de los Muertos
Where do they celebrate Día de los Muertos
What to do during Día de los Muertos
Can I dress up for Día de los Muertos?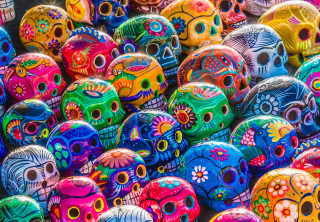 When is Día de los Muertos?
Día de los Muertos is officially celebrated every year on November 1st and 2nd. Many cities start celebrating on October 31st with parades and decorated markets. Many Mexicans spend the night of the 1st in the cemetery where they place flowers and candles on the graves of their loved ones. In this way, the souls of the dead can find their way to the festival.
Where do they celebrate Día de los Muertos?
You can increasingly see the festival appear outside of Mexico. You can see the festival in cities in Latin America and Spain. If you want to experience this colorful party as a tourist, it's best to go to Mexico City. Here, you will find one of the largest parades, and around every corner a market that is entirely devoted to the Día de los Muertos festival theme.
An alternative is to go to the Yucatán, a peninsula of Mexico, where you can still see many influences of the Maya culture. Here, the festival is called Hanal Pixán, which translates to 'food for the souls'. In the Yucatán, food is a more important part of the festival than in other regions of Mexico.
What to do during Día de los Muertos
Every year, Día de los Muertos is a bigger celebration than the year before. The biggest parade of the festival starts on the weekend before November 1st. Therefore, if you want to enjoy the full party, we recommend that you travel to Mexico earlier.
As a tourist, you are welcome to participate in the many festivities that are held in Mexico City. Sail the night boat through old-fashioned canals, have a Catrina mask painted on your face and eat a pan de muerto, bread of the dead.
Can I go to Día de los Muertos dressed up?
Sure! It is even encouraged to have your face painted by one of the makeup artists on the street. Taking photos is also allowed, but only of those who walk in the parade and of other people if you ask for permission.
Out of respect for the deceased, you will not see the locals with painted faces or costumes at the graves. While visiting the cemeteries, you are not supposed to talk. Do not take pictures of the graves or ofrendas, the altars with pictures of the deceased.
Do you feel like participating in the Día de los Muertos festival? We get that very much. As Mexicans say, "If you've never been there, you'll never understand…"
You can experience Día de los Muertos for yourself through BudgetAir.com! You can search for our cheapest tickets to Mexico on our website.